IMPORTANT GENERAL ELECTION INFORMATION
IMPORTANT GENERAL ELECTION INFORMATION
Tuesday, November 3, 2020 from 6 a.m. until 8 p.m.
The November 3, 2020 General Election will be held "primarily" by vote-by-mail.
Ballots will be mailed out the week of September 29, 2020.
All registered voters will receive a ballot in the mail.
Since all registered voters will receive a vote-by-mail ballot, sample ballots will not be mailed out.
If a ballot is postmarked by November 3, 2020, it will be counted as long as it is received by the County no later than 8 p.m. on November 10, 2020 (via US post office).
Voting on Machines and Polling Places will be very limited.
Voting on Machines
Only registered voters with a disability preventing them from voting on paper will be able to vote on a machine at their assigned polling location. This does not include all disabled voters – it is only for those that are unable to vote on paper. An ADA-accessible voting machine will be at each polling location.
All other registered voters should vote by mail. If a (non-disabled) voter arrives at the polling location, they will be given a provisional ballot – they cannot vote on the machine.
Polling Locations
Polling locations have been decreased by fifty percent; and, therefore, election districts have been consolidated. Please take note of your polling location for this election only.
Your polling location will also be listed on your vote-by-mail ballot.
Districts 1, 2, 3, 4, & 5 – Polling Location is the Lumberton Township Municipal Building Courtroom – 35 Municipal Drive
Districts 6, 7, 8, 9, & 10 – Polling Location is Bobby's Run School Performing Arts Center – 32 Dimsdale Drive
Ballot Mail and Drop-Off Locations
During this election, you have three choices when it comes to delivering your ballot.
You may: 1. Drop it in the US Mail
2. Hand deliver your sealed ballot to a poll worker at your polling district or to the County Clerk's office by 8 pm on 11/3
3. Drop it in the secured Ballot Box in front of the Municipal Building – Police and Court Entrance (next to front door)
Helpful Links
Register online to vote: https://voter.svrs.nj.gov/register
Confirm you are a registered voter: https://voter.svrs.nj.gov/registration-check
Confirm your polling location: https://voter.svrs.nj.gov/polling-place-search
Confirm your vote was received and counted: https://nj.gov/state/elections/vote-track-my-ballot.shtml
If you have any questions, call the Township Clerk at 609-267-3217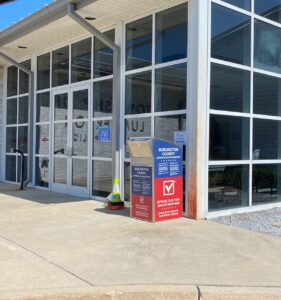 Secured Ballot Box in front of the Municipal Building – Police and Court Entrance (next to front door)
35 Municipal Drive Lumberton NJ 08048