dshaw admin web
Group Wedding Event on July 4th under Fireworks
Burlington County Clerk Joanne Schwartz will join Mayor Jackie Veasy to perform a group wedding at 8:30pm, with fireworks to follow at 9pm at the Cherokee High School. This joint ceremony and celebration will be the first for both the County Clerk, Mayor and Burlington County.
Couples will be asked to register in advance and arrive by 8pm to complete the necessary paperwork.
Couples interested in getting married should contact the office at (609) 265-5142 to schedule an appointment. County Clerk's wedding events fill up quickly so please call to be sure an appointment is available. The couple will need to obtain a marriage license from the town in which either of the parties resides. It takes 72 hours to obtain the license, so it cannot be left until the last minute.
Couples can call the County Clerk's office at 609-265-5142 to register or email hcheesman@co.burlington.nj.us
Lumberton Twp. Recycling Collection Schedule for 2019
June – 3rd, 17th
July – 1st, 15th, 29th
August – 12th, 26th
September – 9th, 23rd
October – 7th, 21st
November – 4th, 18th
December – 2nd, 16th, 30th
BID OPPORTUNITIES:
PLENARY RETAIL CONSUMPTION LICENSE (Sealed bids due before 07/02/2019 at 3:00pm)
Specifications and forms of bid for the Plenary Retail Consumption License may be obtained in the Township Clerk Office, 35 Municipal Drive, Lumberton, NJ 08048 or via email dshaw@lumbertontwp.com
NJDOT FY 2019 Municipal Aid, Municipal Drive Improvements (Sealed bids due before 06/19/2019 at 10:00am)
Plans, Specifications and forms of bid for the proposed work prepared by Pennoni Associates, Township Engineer, and approved by Lumberton Township have been filed in the office of said ENGINEER, at 515 Grove Street, Suite 1B, Haddon Heights, New Jersey 08035 (Telephone No. 856-547-0505), and may be inspected by prospective bidders during regular business hours. Bidders will be furnished with a copy of the Specifications and Proposal by the Engineer for $20.00, cost of preparation thereof, non-refundable; plus postage and handling, if mailed.
Spring Leaf Collection
Effective May 13th, all leaves must be bagged, left at curbside & will be collected on your regularly scheduled trash pick-up day
Village Green Park Community Garden Applications
Sign up for a Garden Plot
@
The Village Green Park Community Garden
Click here for Community Garden Application (2019)
MULCH IS AVAILABLE AT THE PUBLIC WORKS YARD
Weekdays @ 7:00AM to 2:30PM ~OR~
1st & 3rd Saturday of month @ 7:30AM to 1:30PM
Lumberton Historical Society Event:
Fall Festival
September 21, 2019 @ Village Green Park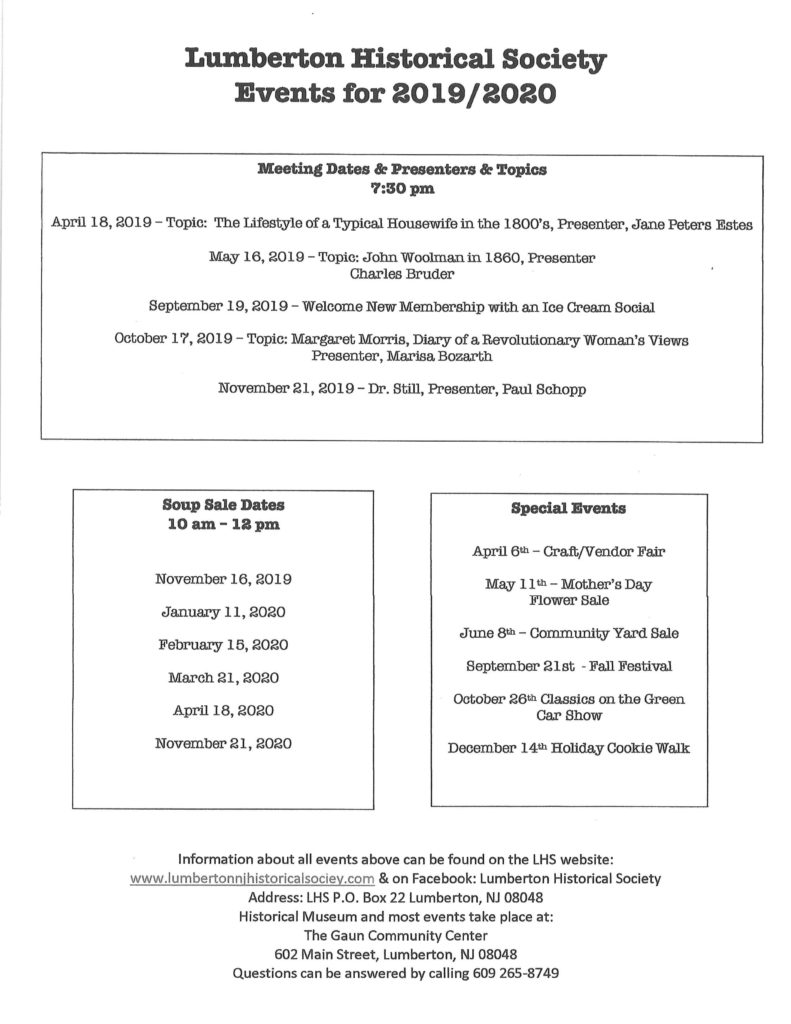 Click on image to view or print flyer
Burlington County Prosecutor's Office Procedures for T-Visa and U-Visa Non-immigrant Status Applications
2019 ELECTION POLLING PLACES BY DISTRICT
Please note that District 4, 5 and 10 have been relocated to the new Emergency Service Building
# – Location, address:
01 – Municipal Building, 35 Municipal Dr., Court Room
02 – Bobby's Run School, 32 Dimsdale Dr., PAC
03 – Bobby's Run School, 32 Dimsdale Dr., PAC
04 – Emergency Services Building, 34 Municipal Dr., Meeting Room
05 – Emergency Services Building, 34 Municipal Dr., Meeting Room
06 – Municipal Building, 35 Municipal Dr., Community Room
07 – Municipal Building, 35 Municipal Dr., Court Room
08 – Municipal Building, 35 Municipal Dr., Court Room
09 – Municipal Building, 35 Municipal Dr., Community Room
10 – Emergency Services Building, 34 Municipal Dr., Meeting Room