dshaw admin web
Lumberton Senior Holiday Party
at Lumberton Middle School
Sunday, Dec. 3rd , 2017 from 1pm to 3pm
Food & Entertainment
Space is limited, call to reserve a seat 609-267-3217 ext. 112
Annual Tree Lighting Ceremony
at Lumberton Municipal Complex
Saturday, December 9th, 2017 from 6pm to 7pm
Music & Light refreshments will be available
Santa will arrive at 6pm
If you would like to donate to the Lumberton Police Department's annual Toy Drive, please bring an unwrapped gift to the Tree Lighting ceremony. All proceeds will benefit our local community.
REQUEST FOR QUALIFICATIONS (RFQ) FOR PROFESSIONAL SERVICES AND OTHER BID EXEMPT SERVICES FOR YEAR 2018
PLEASE TAKE NOTICE that on Wednesday, December 6, 2017 at 2:00PM the Township of Lumberton will receive Requests for Qualifications (RFQ) for Professional Services and Other Bid Exempt Services for Year 2018 at the Township Clerk's Office located in the Municipal Building, 35 Municipal Drive, Lumberton, NJ 08048. Copies of the RFQ will be available online at www.lumbertontwp.com and at the Township Clerk's Office in the Township of Lumberton Municipal Building, 35 Municipal Drive, Lumberton, NJ.
Click below for the entire RFP document:
Correction: Location of the new CVS will be at the Corner of Main Street and Route 38. The Corner of Route 541 (Mt. Holly Bypass) and Route 38 has already been approved for the construction of a new Republic Bank.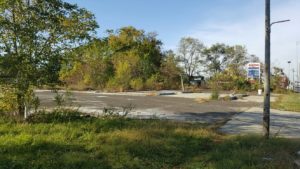 November 3, 2017, Lumberton – Mayor Sean Earlen and the Lumberton Township Committee are thrilled to announce that CVS Pharmacy is acquiring the lands at the corner of Route 38 and Main Street to establish a new pharmacy and store location at this location.
"We are pleased to have been able to work with CVS to bring this exceptional ratable to Lumberton. It will provide a significant benefit to our residents and serve as an anchor to the continued revitalization of the Route 38 corridor," said Mayor Sean Earlen.
"Lumberton offers CVS a great opportunity to expand our market. The Township's stable tax rate and commitment to its commercial partners guided CVS in its desire to come to seek this location for its next store," explained Al Stein, Real Estate Developer with Feinberg & Stein of Cherry Hill, New Jersey.
"We appreciate that Mayor Earlen was able to help bring the former landowner and our client together and work through the developmental hurdles that can be present in abandoned properties," Stein continued.
The corner lot has sat vacant in recent years following a fire at the former gas station located on the property. The project includes both the corner lot and the adjacent restaurant site.
Mayor Earlen concluded, "CVS's decision to locate its next store in Lumberton will transform this intersection and remove the blight that was left by the vacated service station. We look forward to the submission of its application to the Land Development Board so that we can keep this major redevelopment initiative moving forward."
Mayor Sean Earlen, Committeemen Mike Mansdoerfer and Lew Jackson, along with Lumberton Residents marked the Grand Re-Opening of the Basketball Court at Bryan Freeman Park on October 28, 2017 with a Ceremonial Ribbon Cutting. Bryan Freeman Park is located in the Bobby's Run Section of the Township and is open from Dawn to Dusk, 7 days a week.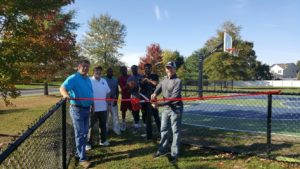 Lumberton, NJ – October 26, 2017 – The Lumberton Township Committee was informed that the Burlington County Freeholders awarded a $200,000 grant through the Burlington County Municipal Park Development Program to construct an Amphitheater. Township Officials expect that the project will be completed in phases, with this grant covering Phase 1. Phase 1 of the project will consist of concrete walkways, stage and canopy construction and all electrical work needed for the Amphitheater. The remaining phase will be the construction of tiered slopes for seating. Work on this project is expected to last roughly two years to fully complete.
The Village Green Park is a 30 Acre Lot within the Township of Lumberton which formally served for 58 years as the home of the Burlington County Farm Fair from 1952 to 2010. When the Farm Fair moved to the fairgrounds off of Route 206, the Lumberton Township Committee began work on plans to bring amenities to the Park to continue to attract residents to utilize and enjoy.
Mayor Sean Earlen stated, "I would like to thank Freeholder Director Garganio, as well as the rest of the Burlington County Freeholders for their continued support of our township's active and passive recreation needs." "Since 2011, we have received $1,078,710.00 dollars in grant money from the county and these dollars have already produced a new playground here at the Village Green, along with a Dog Park, Community Garden and Canoe Launch on the Rancocas, we have added sports fields at our Municipal Building Complex as well as completely renovating all of our recreation amenities in the Bobby's Run Section of town," added Mayor Earlen.
This overall project is a continuation of the Township Committee's commitment to refurbishing the Public Parks and Playgrounds throughout the Town. All of these projects were funded in part by grants from the Burlington County Municipal Park Development Program. Most recently, the Township was able to completely refurbish three playgrounds, and the tennis courts in the Bobby's Run Section of the town through a $137,000 grant received that year and remaining savings from prior year projects. The Township just completed the basketball court refurbishment at Bryan Freeman Park.
"We look forward to continuing our work with the Burlington County Freeholder Board as we engage in the construction of this newest project of a state of the art outdoor amphitheater provided through grant funds received from the Municipal Park Development Program," added Deputy Mayor Jim Conway, who serves as one of the Engineering Project liaisons to the Township Committee. "We are hopeful to have construction fully completed on the new outdoor amphitheater at the Village Green by the end of the summer in 2019 in time for the Lumberton Paddle Festival," stated Deputy Mayor Conway.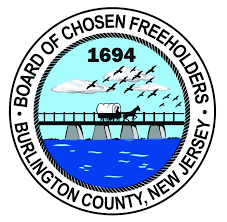 DUE TO CONSTRUCTION OF THE NEW EMERGENCY SERVICES BUILDING THE PREVIOUS ENTRANCE TO PUBLIC WORKS IS CLOSED.
YOU MAY ENTER THE PUBLIC WORKS YARD BY THE TEMPORARY ENTRANCE LOCATED NEXT TO THE EMS BUILDING ALSO ON MUNICIPAL DRIVE
Lumberton, NJ – October 14, 2017 – The Lumberton Township Committee was joined by State and County Officials to mark the start of construction for their new state of the art Emergency Services building, which will be home to the Lumberton Fire Department, Bureau of Fire Protection, Lumberton Emergency Squad and Office of Emergency Management. This new building will offer our first responders a centrally-located, first class facility to conduct their operations and provide them with the tools they need to be Lumberton resident's first line of defense in emergencies. Construction is expected to last roughly one year, with a completion date of September 28, 2018. The general contractor responsible for the completion of this project is the Arthur J. Ogren Construction Management Company out of Vineland, New Jersey.
"Today is an extremely proud day for Lumberton Township and most especially our First Responders, because today we break ground not only on a new home for those who volunteer to protect us every day, but we mark a new beginning for them which is free of the fear that their station might flood out on a rainy day like today," stated Mayor Sean Earlen. "Since our first flood back in 2004 which left several feet of water in our Firehouse on Main Street, Lumberton Township has been working towards this day and now as we mark the first day of construction, we will witness over the next year all of the hard work and planning that was put into making this project a reality," added Mayor Earlen. "I would like to thank everyone that has been involved in this project from the start and most especially I would like to thank my Colleagues on the Township Committee and our township staff for working hard to ensure that this project fit within our Township's means, so that it does not cause an undue tax burden on our residents," stated Mayor Earlen.
For the past two years Lumberton Township has worked with Garrison Architects and CME Associates to design and plan for this new Emergency Services Building. With the assistance of the leadership of both the Lumberton Emergency Squad and Lumberton Fire Department, designs for the new building were finalized and bids were advertised over the summer to hire a general contractor to perform the work of constructing the building. On September 12, 2017, the Township Committee authorized a contract with Arthur J Ogren, Inc. for the construction of the site work and building to be located across the street from the Municipal Building for a total of $5,594,000.
"As the Finance Chair and Emergency Services Liaison, I am extremely proud today to say that this much needed building is not going to have an impact on our resident's taxes, because this year we saw a reduction in our annual debt service payments of roughly $675,000 due to paying off the Municipal Building and with that savings we were able to fund the new annual payments for this building," added Committeeman Mike Mansdoerfer. "Due to our strong fiscal management of the Township, we have been able to keep our spending flat over the last decade and this year, through that fiscal responsibility, we were able to get this project off the ground and provide a reduction in taxes to our residents all at the same time," stated Committeeman Mansdoerfer. "I know I for one can't wait to see the finished building, to know our first responders have the peace of mind to focus on their mission on protecting others instead of worrying about another flood pushing them out of their station," concluded Committeeman Mansdoerfer.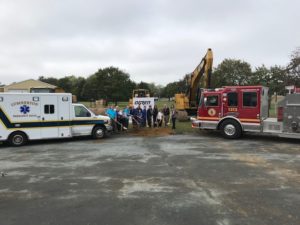 Lumberton, NJ – October 11, 2017 – The Lumberton Township Committee executed a shared service agreement with the Local School District (BOE) at its official meeting last evening, October 10, 2017, for the services of a full time School Resource Officer(SRO). In this agreement, the Township will provide a full time police officer to be assigned to local schools in Lumberton. The cost of this service will be initially covered 100% by Lumberton Township. This contract will run until June 30, 2021.
Mayor Sean Earlen stated, "my colleagues and I on the Township Committee know that you can never put a price tag on safety, and most especially the safety of our children here in Lumberton, which is why we are committed to providing this School Resource Officer, which will be fully funded by the Township" "I would also like to that the Board of Education and their administrative staff for working with the Township to get this initiative off the ground and we look forward to continuing to work with them into the future," added Mayor Earlen. "Every day when I talk to parents just like me about what they want to see their tax dollars go towards, one topic always seems to be at the top of their list which is the safety and security of their children in our schools. We all know that we live in crazy times and as your elected representatives we must do everything in our power to ensure that our children are protected," stated Mayor Earlen.
Our Township Police Department consists of 21 uniformed officers, which provides 24/7, 365 days a year protection for the residents of Lumberton Township. The department currently provides another School Resource Officer through a shared service agreement with the Burlington County Special Services School District located off of Ark Road. In addition to our Patrol Division, it also has detectives and a K-9 Officer to round out the department.
"Through responsible budgeting over the last 5 years and securing much needed grants, we have been able to overcome the financial downturn and rebuilt our Police Department to 21 officers from the a low of 13 officers when I joined the Township Committee," stated Mayor Earlen. "With every officer we add to the force, we are able to expand our Community Policing Initiatives and with this new SRO in our Local Schools, we will not only increase security for our children but will be able to establish a natural bond between them and our Police Department so that they can develop a trust and respect for our men and women in blue," added Mayor Earlen. "Additionally when school is not in session, our Township as a whole will benefit from this School Resource Officer because he will be assigned to one of our patrol shifts, which adds another officer policing our streets," concluded Mayor Earlen.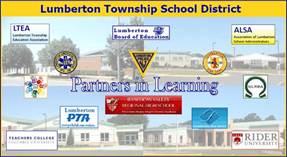 ZONE 1
1st Collection Week of November 13th
2nd Collection Week of December 4th
Zone 1 includes Route 38 and all streets north of Route 38, Hollybrook and Glenwood Section, Route 541 (Main Street from Rt. 38 south to Pershing Avenue), Beulah Ave., Eastlick Ave., Ellis Ave., Harding Ave., Pershing Ave., Roosevett Ave., and Wilson Ave.
ZONE 2
1st Collection Week of November 20th
2nd Collection Week of December 11th
Zone 2 includes Maple Grove Estates, all sections of Bobby's Run, all sections of Meadow Glen, Municipal Drive (from Main Street to Flemish & Bond), Route 541 (Main Street from south of Pershing Avenue to Municipal Drive) Chambers Street, Chestnut Street, Eayestown Road (from Rt.38 to Municipal Drive), Green Street, Moore Street, Morris Street, Pear Street, Queen Street, Ridgway Street, Ross Street, Second Street, Spruce Street, Landing Street, and Walnut Street.
ZONE 3
1st Collection Week of November 27th
2nd Collection Week of December 18th
Zone 3 includes Country Village, Coventry Glen, Waverly and Stirling Chase, Route 541 (Main Street from Municipal Drive to Medford Twp Line), Ark Rd., Bella Rd., Bridge Rd., Camp Dr., Church St., Country Club Dr., Country Way, Creek Rd., Crispin Rd., Eayestown Rd. (from Municipal Drive to the Medford Twp. line), Edward St., Evergreen St., Fenimore Rd., Fostertown Rd., Fox Run, Githens Lane, Hopewell Ave., Landing St., Marriott Dr., Newbolds Corner Rd., Patricia Court, Pheasant Lane, Point St., Quail Hollow Lane, Deer Path, Shawn's Way, Stacy Haines Rd., and Willow Street.
To help the Department of Public Works do their job efficiently, please remember to use extreme care to ensure there is no foreign debris such as tree limbs, rocks, bottles, etc. in the leaves. These items can cause costly breakdowns of the machine and delays in the pick up schedule.
Ideally, it is recommended that a fenced holding pen or similar means of containment be devised to prevent leaves from blowing after they are raked. Residents should be aware that the leaves must be raked to the curb in order for the vacuum hose to reach them.
To ease the collection process and reduce the risk of fire from automotive exhaust systems, residents are urged not to park vehicles in the area near the raked leaves that have been placed in the street.
Click below to print the schedule: