dshaw admin web
Township Committee Meeting Schedule
In order to accommodate for elections, holidays and conferences the Township Committee Meetings are not held on the 2nd and 4th Tuesday of the month the last scheduled meeting for 2018 is:
December 18, 2018 at 7:30pm
MEETING NOTICE – TOWNSHIP COMMITTEE YEAR 2019 REORGANIZATION
The Lumberton Township Year 2019 Reorganization Meeting will be held on Thursday, January 3, 2019 at 7:00PM in the Lumberton Township Municipal Building, 35 Municipal Drive, Lumberton, NJ 08048. The Agenda will include appointment Resolutions and any other business to come before the Township Committee. Action will be taken.
REQUEST FOR PROPOSALS (RFP) FOR COMPUTER SUPPORT SERVICES
PLEASE TAKE NOTICE Lumberton Township will be accepting bids for Computer Support Services. Bids are due no later than Thursday, December 27, 2018 at 10:00 a.m. Bids must be submitted in a sealed envelope to the Attention of: Brandon E. Umba, Township Administrator, 35 Municipal Drive, Lumberton, NJ 08048. Bid specifications are available at the Municipal Building, 35 Municipal Drive, Lumberton, NJ 08048 Monday through Friday 8:00AM to 4:00PM. Any questions please call (609) 267-3217, or email bumba@lumbertontwp.com .
Impaired Driving Enforcement Crackdown to be Conducted Locally as Part of Statewide Year End Campaign
(LUMBERTON TOWNSHIP) — Law enforcement officials from Lumberton Township will be cracking down on drivers impaired by alcohol or drugs as part of the annual end of year "Drive Sober or Get Pulled Over" statewide campaign. Beginning December 7, 2018 and continuing through January 1, 2019, local and state law enforcement officials will conduct saturation patrols and sobriety checkpoints looking for motorists who may be driving while intoxicated.
The national "Drive Sober or Get Pulled Over" effort endeavors to raise awareness about the dangers of impaired driving through a combination of high-visibility enforcement and public education. "During the last five years New Jersey has experienced nearly 38,000 alcohol involved crashes resulting in more than 700 fatalities," said Police Chief Nick Peditto. "This is a critical law enforcement program that can save lives during a time of the year when impaired driving traditionally increases by nearly 10 percent."
Last year, 20% of all motor vehicle fatalities in New Jersey were alcohol-related. Nationally, more than 10,000 people die each year in drunk driving crashes. The societal cost associated with these crashes is estimated to be $37 billion annually.
Law enforcement agencies participating in the Drive Sober or Get Pulled Over 2018 Year End Holiday Crackdown offer the following advice for the holiday season:
Take mass transit, a taxicab, or ask a sober friend to drive you home.
Spend the night where the activity or party is held.
If you see an impaired driver on the road, contact law enforcement. Your actions may save someone's life, and inaction could cost a life.
Always buckle-up, every ride. It's your best defense against an impaired driver.
If you are intoxicated and traveling on foot, the safest way to get home is to take a cab or have a sober friend or family member drive or escort you to your doorstep.
Be responsible. If someone you know is drinking, do not let that person get behind the wheel.
Lumberton, NJ – October 5, 2018 –Utilizing a grant from the Burlington County Freeholders, Lumberton Township completely refurbished the Glenwood Park Playground in the Hollybrook section of town. The Township will also demolish the existing tennis courts at the Village Green Park to make way for two brand new basketball courts and to purchase new playground equipment for the Canterbury Court playground. Township Officials held a ribbon cutting ceremony to mark the opening of the Glenwood Park Playground on October 5, 2018 and expect to open the Village Green Basketball court by the end of October. Canterbury Court Playground construction is expected to be held off until the Spring of 2019.
Mayor Mike Mansdoerfer stated, "Lumberton Township is extremely thankful for the leadership of one of our fellow residents, Freeholder Director Kate Gibbs, along with the rest of the Burlington County Freeholders for their continued support of our town's active and passive recreation needs." "Since the 2011, we have received $1,078,710.00 dollars in grant money from the county and these dollars have already produced a new playground here at the Village Green, along with a Dog Park, Community Garden and Canoe Launch on the Rancocas, we have added sports fields at our Municipal Building Complex as well as completely renovating all of our recreation amenities in the Bobby's Run Section of town," added Mayor Mansdoerfer.
"We look forward to continuing our efforts to improving the recreation amenities our Township has to offer our residents and we look forward to opening our new Basketball Courts at the Village Green later this month," added Committeeman Jim Conway, who serves as one of the Engineering Project liaisons to the Township Committee. "With the continued assistance from the Burlington County Freeholder Board through the Municipal Park Development Program, we will be also able to open another new playground on Canterbury Court next spring and we hope to use future grant submissions to help transform the soon to be Township acquired Ironwood Outdoor Park so that all residents have access to its nature trails both on land and on the Rancocas Creek," stated Committeeman Conway.
The Lumberton Township Committee originally anticipated that the $200,000 grant would be used to construct an amphitheater. However after due diligence was completed on the proposed site, it was determined to not be cost effective with all the DEP permit cost needed to authorize the construction of this project. "We wanted to get the most bang for our grant buck," Mansdoerfer explained. "By shifting our efforts from the amphitheater, we were able to rehabilitate three parks. Looking at these neighborhood improvements here in Hollybrook, I am glad we made this decision to focus on this park first. I am really proud of the final result and look forward to seeing families enjoy this amenity," he concluded.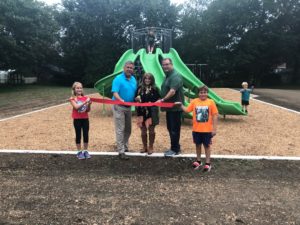 SOLAR REPORT AND RECOMMENDATION
To: Lumberton Township Committee
From: Solar Review Committee
Date: Friday, July 6, 2018
RE: Solar Report and Recommendation of Award
Background: Notice to Vendors was made via publication on March 30, 2018 to receive Request for Proposals for a solar project that would provide options to Lumberton Township is develop a solar project or projects with the primary goal of reduced rate electricity. Secondary goals include land lease alternatives and providing solar power street lighting along municipal drive. The project was advertised as a competitive contracting proposal process pursuant to guidance provided in New Jersey Statutes, N.J.S.A. § 40A:11-4.1 et seq., and Local Finance Notices 2009-9, -10 and -11. The complete Request for Proposals package is attached hereto as Exhibit A and incorporated herein. The RFP permitted the use of lands at the closed municipal landfill as well as the Township's facilities along municipal drive as space to provide opportunities for solar initiatives. The RFP was open to an award to multiple vendor each of whom was directed to maximize use of available lands and supply as much solar energy power as each was capable of generating at the lowest possible rate to the Township in the proposal. The specification required no municipal start-up costs for this project.
A pre-submission meeting was held on site on April 9, 2018 at 10:00 a.m. The meeting included a description of the project, a question and answer session with Township representatives and a site tour were conducted. The meeting was conducted by Environmental Resolutions, Inc. and Township Administrator Brandon Umba on behalf of the Township.
Potential vendors had until April 20, 2018 to raise questions concerning the proposal guidelines. No potential vendors submitted questions.
The Township granted an extension for the submission date to supply each vendor with additional power usage figures.
RFP Opening. At the time and place for receiving proposals, two bids were received. The vendors were:
Solar Sense

Advanced Solar Products
Please note, the second vendor's submission was rejected for arriving approximately one hour late.
Committee evaluations. The review committee each individually scored the remaining submission. This submission only proposed a land lease option for the landfill site and did not propose to sell electricity to the Township at a reduced price.
Recommendation. The review committee evaluated the Solar Sense proposal and determined that the overall economic benefit to the municipality is $985,613 over fifteen years ($61,230/year) for a straight lease purchase of the landfill lands to construct a solar field. This project would not affect the municipal buildings and would allow the Township to re-advertise for a solar project at the municipal. The review committee recommends that the second project be advertised solely as a power purchase agreement and that one of the requirements of the vendor would be to install appropriate lighting along municipal drive. The review committee recommends that this secondary project be advertised after the completion of the new emergency services building so that the rooftop may also be considered for solar paneling.
Sign up for a Garden Plot
@
The Village Green Park Community Garden
Link to the Community Garden Plot Application
Lumberton Township Committee & Schools Partner for "Be A Municipal Official For A Day" Program
April 26, 2018 – Lumberton Township – At the April 24, 2018 Lumberton Township Committee Meeting, students from the Young Republic Club, the student government for the Lumberton Middle School, took the helm of Township Government for the second annual "Be a Municipal Official for a Day." In 2016, students formed the Young Republic Club as a democratically elected student government, with two parties, the Blue Party and the Gold Party. They have adopted a constitution and Bill of Rights for their fellow students, and represent them before the School District's Administration and the Board of Education. During Tuesday Night's Township Meeting each student elected official was paired with one of the Township's Elected or Appointed Officials, to conduct an actual Township Committee Meeting.
"For the past few years, our Township and School Officials have worked closely with each other through quarterly meetings to ensure our resources are being used to the fullest, due to these meetings we have produced further shared services between our two entities which include providing a School Resource Officer, vehicle maintenance and fueling services, in addition to this second annual event geared toward engaging our local students in the role of the local government in their community," stated Mayor Mike Mansdoerfer. "Last night we welcomed these students to the Township Municipal Building, took them on a tour of our departments and had them shadow our local officials through our regular township meeting, allowing them to truly take part in conducting the business of Township Government with our Township Committee Members affirming each of their actions," added Mayor Mansdoerfer.
Prior to the 7:30pm start to the Township Meeting, each student was given the opportunity to sit down with the Elected or Appointed Township Official they would be shadowing, to discuss their role in the meeting and how each would contribute to enacting the items on that evening's agenda. Actions taken by our Student Leaders included adopting an ordinance restricting parking to residents only near Virtua Hospital, amending fees for the Township's Construction Department, amending two employment contracts, providing contact representatives for the BURLCO JIF, adding grant funds to the 2018 budget to include resources to pave Allspice and Savory Way, plus the remaining part of Nassau Road, awarded a contract for repairs of a Storm water line behind the Post Office and Buttonwood School and paid the Township's bills.
"We hope that tonight was a great learning experience for our local students and that most importantly they had fun running their Town's government for a day," concluded Mayor Mansdoerfer. The following is a list of the Students' Names and the Positions they held:
Roles Student Township Official
Mayor Griffin Gaughan Michael Mansdoerfer
Deputy Mayor Stephanie Kraska Kristin Januseski
Committeeman Rohan Patel Sean Earlen
Committeeman Anjali Darji James Dwyer
Committeeman Joelle Darragh James Conway
Twp. Administrator James Humphreys Brandon Umba
Police Chief Scotty Allen Anthony DiLoreto
Twp. Clerk Stephanie Pallante Deb Shaw-Blemings
Twp. Solicitor Ian Phillips George Morris, Esq.
Police Lt./OEM Sean Powell Lt. Ed Begolly
Police Lt./Patrol Jackson Beairsto Lt. Nick Peditto
Chief Finance Officer J T Moses Robin Sarlo