dshaw admin web
FREE RABIES VACCINATION CLINIC
Saturday, January 20, 2018, 10am until 1pm
@ Municipal Community Room, 35 Municipal Drive, Lumberton
The Township of Lumberton is hosting the annual free rabies vaccination clinic for dogs and cats on Saturday, Jan. 20, 2018 from 10am until 1pm in the Municipal Community Room, 35 Municipal Drive, Lumberton, NJ. Must be a Burlington County resident to receive the vaccination service. Pursuant to NJ State law the Township is not permitted to license a pet whose rabies vaccination expires prior to November 1st of the licensing year (11/01/2018). You may purchase your 2018 Lumberton Township Dog License by visiting the Lumberton Township Clerk Office weekdays 8am to 4pm. Go to the Township Clerk page for additional licensing instructions.
2018 SPRING Baseball REGISTRATION
When: January 27, 2018, February 10, 2018, February 24, 2018
Where: MUA Administration Building, 37 Washington St., Mt.Holly
Time: 10:00am- 2:00pm
OR
Register Online TODAY at www.RVLL.org
Registration Fee: Ages 4-5 – 1st Child $30, Tee Ball Price Only
Ages 6-8 – 1st Child $75, each additional child $55
Ages 9-12 – 1st Child $95, each additional child $75
*Plus a $40, refundable, field maintenance fee*
Please visit rvll.org for age requirement chart.
Tee-Ball starts at 4yrs old Intermediate (50/70) up to (league age)13 yrs old
Eligible children include those living in the following communities:
Mount Holly, Lumberton, Eastampton, Westampton and Willingboro
Be a part of our memorable Opening Day ceremony.
5 fields of play including one lighted field.
Come join your friends at Monroe Park and be a part of the Little League Program in your area!
**This is not a School sponsored event**
2018 Recreation Season Registration visit:
or email shyco.Board@gmail.com
Ages: Baseball: 5-12 (Age as of 4/30/2018)
Softball: 5-14 (Age as of 12/31/2018)
Eligibility: Residents of Eastampton, Hainesport, Lumberton, Mount Holly, Westampton (girls residing in Burlington & Pemberton also eligible)
SACRED HEART CYO is not sponsored by Hainesport, Lumberton, Eastampton, Westampton or Mount Holly schools or municipal recreation departments.
Elevator Sub-Code Official/Inspector – Lumberton Township is seeking a qualified individual for a part-time position to perform annual Elevator Inspections in Lumberton Township. The position includes management and preparation of all necessary forms and inspections for the elevators in Lumberton Township as per the New Jersey Uniform Construction Code. Must possess a current valid Elevator Sub-Code License from the New Jersey Department of Community Affairs and a valid New Jersey Driver's License. Salary will be commensurate with experience. Send resume to Lumberton Township Construction Office, 35 Municipal Drive, Lumberton, NJ 08048 Attn: Brad Regn, Construction Official. Resumes must be received by March 1, 2018.
Pursuant to Lumberton Township Code 250 Article V:24-28 It is prohibited to park or leave any vehicle on a street in the Township of Lumberton during a DECLARED SNOW EMERGENCY. Any violation of the code may be responsible for towing costs and a fine of $100 to $250.
To view the Township Code click link below:
https://www.ecode360.com/31859369
DUE TO CONSTRUCTION OF THE NEW EMERGENCY SERVICES BUILDING THE PREVIOUS ENTRANCE TO PUBLIC WORKS IS CLOSED.
YOU MAY ENTER THE PUBLIC WORKS YARD BY THE TEMPORARY ENTRANCE LOCATED NEXT TO THE EMS BUILDING ALSO ON MUNICIPAL DRIVE
Correction: Location of the new CVS will be at the Corner of Main Street and Route 38. The Corner of Route 541 (Mt. Holly Bypass) and Route 38 has already been approved for the construction of a new Republic Bank.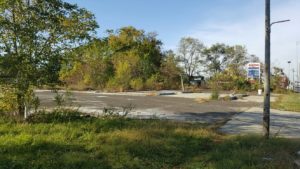 November 3, 2017, Lumberton – Mayor Sean Earlen and the Lumberton Township Committee are thrilled to announce that CVS Pharmacy is acquiring the lands at the corner of Route 38 and Main Street to establish a new pharmacy and store location at this location.
"We are pleased to have been able to work with CVS to bring this exceptional ratable to Lumberton. It will provide a significant benefit to our residents and serve as an anchor to the continued revitalization of the Route 38 corridor," said Mayor Sean Earlen.
"Lumberton offers CVS a great opportunity to expand our market. The Township's stable tax rate and commitment to its commercial partners guided CVS in its desire to come to seek this location for its next store," explained Al Stein, Real Estate Developer with Feinberg & Stein of Cherry Hill, New Jersey.
"We appreciate that Mayor Earlen was able to help bring the former landowner and our client together and work through the developmental hurdles that can be present in abandoned properties," Stein continued.
The corner lot has sat vacant in recent years following a fire at the former gas station located on the property. The project includes both the corner lot and the adjacent restaurant site.
Mayor Earlen concluded, "CVS's decision to locate its next store in Lumberton will transform this intersection and remove the blight that was left by the vacated service station. We look forward to the submission of its application to the Land Development Board so that we can keep this major redevelopment initiative moving forward."