Lumberton Township Officials, in cooperation with county, state and federal resources, wish to let our residents know that preparedness efforts for potential transmission of Novel Coronavirus 2019, officially known as "COVID-19", are in progress. Please review this information to prepare you and your families for any disruptions which may be caused by a widespread outbreak of COVID-19. Currently, there are no confirmed cases of COVID-19 in Lumberton or in NJ, but cases are being reported around the U.S. daily, and preparing for what is considered a likely outbreak here is prudent and advisable.
Public Information Dissemination: Coronavirus Preparedness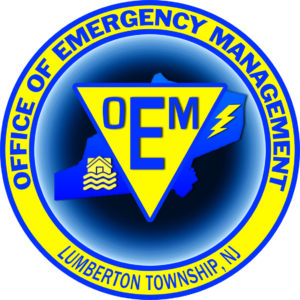 Attachments
The Lumberton Township Committee and CVS Executives officially
open the new CVS Retail Pharmacy Store & Drive Thru
located at Route 38 and Main Street
in Lumberton Township on February 24, 2020.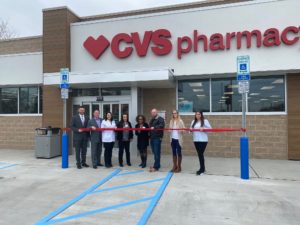 "Since the New Year, Deputy Mayor Hatfield, Committeewoman Ryan and myself have committed ourselves to reviewing all aspects of Lumberton Township Government to ensure flexibility and efficiency.
One item that was troublesome to us is that at the end of December last year, there was a last second Resolution authorizing an extension to the EMS Contract which was put forward under our former Mayor, that Ms. Hatfield and I thought was a one-year extension which had been the normal practice for several years. However, that Resolution actually authorized a five-year contract to our Lumberton Emergency Squad. While we agree whole heartedly that the Lumberton Emergency Squad is doing an excellent job for our residents, we feel that the Township should keep to its normal practice of extending a one-year contract for these services because of the ever-changing environment surrounding Emergency Medical Services. This is why we have been looking into options with our professionals and talking with the leadership of the squad to find the best solution for Lumberton Township. To be clear, at no point have we contemplated shutting down the Lumberton Emergency Squad and taking over their services. This fact can be confirmed by our Township Administrator, as he is working with us to introduce our 2020 Township Budget and nowhere within that budget do, we allocate funds for such a takeover.
While we are on the subject of the Township Budget, another statement that has been made is that any change the Township enacts will cause taxes to rise drastically. That is simply not the case and we intend to introduce the 2020 Budget in short order and that Budget will be a flat Budget with zero increase to the Township Taxpayers. In fact, this Budget will expand emergency services by hiring an additional police officer, bringing our force up to four officers a shift, a level we have not seen since the Township was forced to do layoffs due to a failed Referendum, while also investing in more equipment for our emergency services personnel.
In closing, I want the residents to know that we have heard their concerns and we will make the best decision for all of Lumberton."
2020 Lumberton Township
Reorganization Meeting
The Lumberton Township Committee Reorganized and welcomed Committeewoman Rue Ryan to the Board last evening. In addition, Committeeman Ryan Tuno and Committeewoman Kendra Hatfield were unanimously selected as Mayor and Deputy Mayor for the year 2020.
"My colleagues and I on the Township Committee would like to welcome our newest Committee Member, Committeewoman Rue Ryan to the Board. We are looking forward to a productive year of working together to continue to make Lumberton Township a great community to live, work and raise a family." Mayor Ryan Tuno.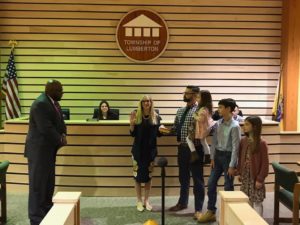 Committeewoman Rue Ryan being sworn in by State Sen. Troy Singleton, with her husband and three children.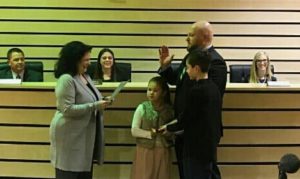 Mayor Ryan Tuno, with his two children, being official sworn in by State Sen. Dawn Marie Addiego.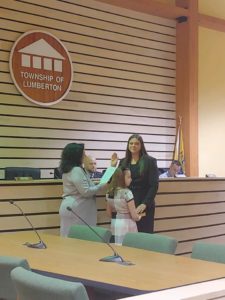 Deputy Mayor Kendra Hatfield being sworn in by State Den. Dawn Marie Addiego, with her daughter holding the bible.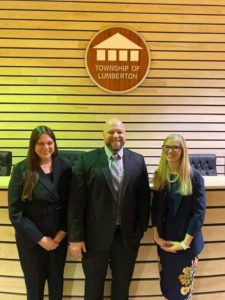 From right to left, Deputy Mayor Kendra Hatfield, Mayor Ryan Tuno and Committeewoman Rue Ryan.
The Lumberton Township Committee and Starbucks Executives officially
open the new Starbucks located at Route 38 and the Mount Holly Bypass
(CR 541) in Lumberton Township on August 27, 2019.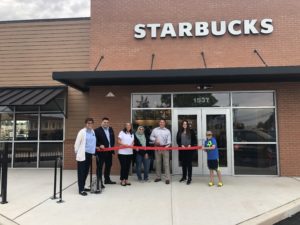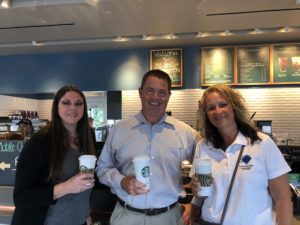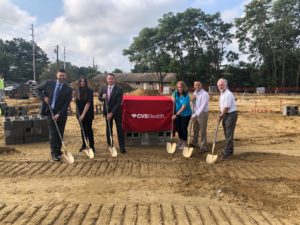 Photo credit from left to right: Jason Hughes, CVS District Leader, Committeewoman Kendra Hatfield, Mayor Sean Earlen, Deputy Mayor Kristin Januseski, Committeeman Jim Dwyer and Al Stein, CVS Real Estate Developer from Feinberg & McBurney.
Press Release – August 16, 2019,
Lumberton, NJ – Yesterday Lumberton Township Committee Members and CVS Executives broke ground on the new CVS Pharmacy retail store to be located on the corner of Route 38 and Main Street (County Route 691). This project has been in development since January of 2017, when the Township Committee moved to condemn the property for redevelopment purposes. The Township ultimately did not have to go through with the condemnation proceedings because they were able to work with CVS Executives and the prior owners of the property to overcome the various obstacles presented which has allowed this project to became a reality.
"We are pleased to have been able to work with CVS to bring this exceptional ratable to Lumberton. It will provide a significant benefit to our residents and serve as an anchor to the continued revitalization of the Route 38 corridor," said Mayor Sean Earlen.
"Lumberton offers CVS a great opportunity to expand our market. The Township's stable tax rate and commitment to its commercial partners guided CVS in its desire to come to seek this location for its next store," explained Al Stein, Real Estate Developer with Feinberg & McBurney of Cherry Hill, New Jersey.
"We appreciate that the Township Committee was able to help bring the former landowner and our client together and work through the developmental hurdles that can be present in abandoned properties such as this one," Stein continued.
This corner lot at the intersection of Route 38 and Main Street, County Route 691 has sat vacant since 2009 following a fire at the former gas station located on the property. The project also includes the adjacent property which formally contained a restaurant. CVS purchased the restaurant property on November 30, 2017 and went under contract with the former Exxon property at that same time until it was formally purchased on January 9, 2019. Before closing on the former gas station property, CVS received its approvals from the Lumberton Township Land Development Board (LDB) to construct its store at the May 16, 2018 LDB meeting. Under the Land Development Board approval, CVS is permitted to construct a 9,656 square foot building, with intended operational hours of 9am to 10pm, Monday through Saturday and 9am to 9pm on Sundays.
Deputy Mayor Kristin Januseski stated, "CVS's decision to locate its next store in Lumberton will transform this intersection and remove the blight that was left by the vacated gas station. We look forward to this store's opening which is expected to be in early December of this year and is expected to employ more than 20 full and part time employees."
During the evening of August 6th before the National Night Out festivities kicked off, the Lumberton Township Committee, along with our local First Responders in the Lumberton Police Department, Fire Department and Emergency Squad, dedicated the September 11, 2001 Memorial @ the Emergency Services Building. Thank you to all the sponsors who made this Memorial possible. Lumberton Township Will Never Forget.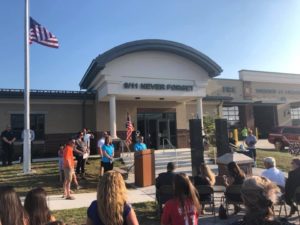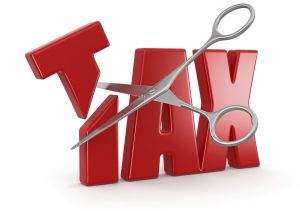 April 2, 2018 – Lumberton Township – The Lumberton Township Committee adopted its 2018 budget on Tuesday evening which lowered the local purpose tax for the second year in a row. The local purpose tax is lowered from .411 to .406 per $100 of assessed value which represents an approximate savings of $16.00 for the average home assessed at $299,734.00.
"We are thrilled to be able to support and adopt a sound fiscal budget which lowers taxes," said Mayor Mike Mansdoerfer. "This year was a culmination of more hard work and penny pinching, evaluating every dollar spent to make sure that we are good stewards of our residents' taxes. We know how hard our residents work to earn their income and want to ensure that we are as equally protective when their tax dollars are allocated to services," he continued.
The 2018 budget allocates $8,750,904 in spending. This is actually $1,644,931 less than the Township spent in 2008 and continues a decade long trend of stable or declining spending.
The Township's budget funds all critical tasks of the local government. "We developed a plan to address our community needs including building the new Emergency Services Building without increasing our debt service obligations. Most importantly, we allocated funds in the budget to bring a school resource officer back into the schools," said Deputy Mayor Kristin Januseski.
The Township's bond rating is AA Stable, confirming the bond market recognizes the Township's sound fiscal planning.
"Our budget also uses grants and outside funding sources to help continue to make improvements to our infrastructure," said Committeeman Jim Conway who is charged with overseeing many of the town's road and improvement projects. "This year we will again pave and repair more roadways and improve our parks and recreation system," he concluded.
For a copy of the Township's budgets, audits and annual financial statements, contact the Municipal Clerk or go online to www.lumbertontwp.com
Click link below to view documents: